Points of Interest in Downtown Jasper
Murals in Downtown Jasper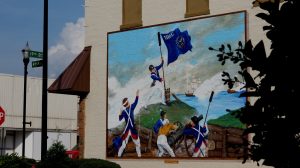 Sargent Jasper
Corner of 4th Avenue and 19th Street
Artist: Missy Miles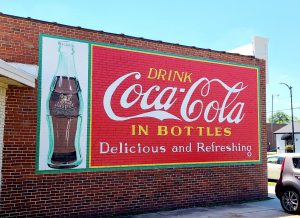 Coca Cola
Corner of 19th Street and Birmingham Avenue
Artist: Missy Miles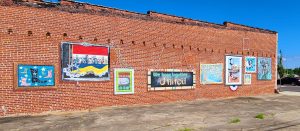 Frames
Corner of 6th Avenue and 19th Street
Artist: Local artists with Missy Miles coordinating project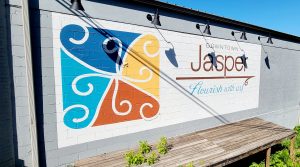 Flourish
Corner of Elliott Blvd and 19th Street
Artist: Missy Miles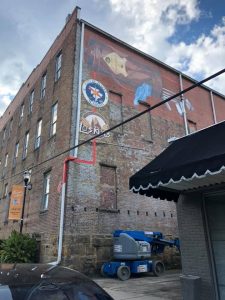 Los Reyes / The Burton Building
Corner of 2nd Avenue and 19th Street
Artist: Missy Miles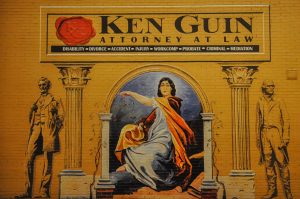 Blind Justice
Corner of 19th Street and 3rd Avenue
Artist: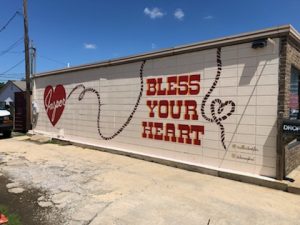 Bless Your Heart
On the building of Advanced Locksmith located on 5th Avenue South next to TV16
Artist: Mollie Standifer & Levi Sanford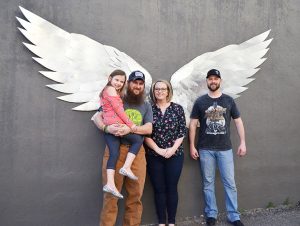 Will's Wings – dimensional art
Twisted Barley Brewery - 520 19th Street West - CLICK HERE to read about the inspiration for this art
Artist: Jeremy Jordan
Additional Points of Interest in Downtown Jasper
Bailey -Sides Pioneer Cabin
Gamble Park, Adjacent to the campus of Bevill State Community College
Bankhead House and Heritage Center
National Historic Register
800 7th Street West
Free & Open to the Public
Carl Elliott House & Museum
National Historic Register
1700 17th Street
Free & Open to the Public by appointment
Historic North Highlands Neighborhood
With homes dating back to the mid-1800's. Some are on the National Historic Register and/or Designated as Living Landmarks
Jasper Memorial Cemetery
In the curve at 4th Avenue & 15th Street
Jasper First United Methodist Church
National Historic Register
1800 3rd Avenue
Town Square/Walker County Court House
19th Street between 2nd and 3rd Avenue
WPA-NYA Bridge Over Town Creek
Town Creek Park
1st Avenue
Downtown Mules - a community art project sponsored by Walker County Arts Alliance
Approximately 70 Mules are located throughout Walker County. CLICK HERE to link to a complete map of all Mules.
Mules located in the Downtown Jasper area:
"Sleepy" - Memorial Park Elementary School, 800 10th Ave. - Sponsor: Rest of Your Life Sleep Center - Artist: Justin Lyle
"Willie" - Bankhead House & Heritage Center, 800 7th St. - Sponsor: Walker Area Community Foundation - Artist: Shawn Wallace, Artist
"Energy" - Walker Area Community Foundation, 611 8th Ave. - Sponsor: Reed Energy - Artist: Melanie Poole
"Buddy" - 1404 10th Ave. W - Sponsor: Jasper Industrial Maintenance Supply - Artist: Billie Jo Phillips
"Daisy" - 1100 14th Street W - Sponsor: Delta Transfer Lines & Girl Scouts of N. Central AL - Artist: Girls Scouts of Whispering Pines Unit & Kate Murphy
"Brownie" - 640 19th Street W, - Sponsor: The Brown Company - Artist: Deborah Hill
"Ed Mule Cation" - 201 Panther Trail - Sponsor: Honda of Jasper - Artist: Justin Lyle
"Ronnie" - 10 Wright St., - Sponsor: Blackston & Associates - Artist: Shawn Wallace, Artist
"Liz" - 401 19th Street E, - Sponsor: Nick Sanders Jewelers - Artist: Melanie Poole
"Tallulah" - Bevill State Community College, 805 14th St. E - Sponsor: Kiwanis Club of Jasper - Artist: Lisa Welch
"Trusty" - 1700 4th Ave. S - Sponsor: Byars|Wright, Inc. - Artist: Maurice Cook
"Jasper" - 400 19th St. W, - Sponsor: City of Jasper - Artist: Eddie Brown
"Gem" - 401 19th St. W - Sponsor: Main Street Jasper - Artist: Missy Miles, Artist
"Parker" - 1800 block of 3rd Ave. S - Sponsor: John Oliver and Eddie Jackson - Artist: Justin Lyle
"Justice" - 1824 3rd Ave. S. - Sponsor: King, Wiley & Williams - Artist: Bill Young, III
"Cicely" - 319 19th St. W - Sponsor: Comfort Care Hospice - Artist: Lynn Whittington
"Josephine" - 200 18th St. W, 1st Floor - Sponsor: Walker County Arts Alliance - Artist: Maurice Cook
"Penny" - 200 18th St. W - Sponsor: Synovus - Artist: Sandra Lawrence
"Promise" - 1811 2nd Ave. - Sponsor: Pinnacle Bank - Artist: Kate Gurganus
"Hope - Breast Cancer Mule" - Courthouse Square, 1803 3rd Ave. - Sponsor: Scott Crump Toyota - Artist: Kathy Stough
"Dottie Mae" - Courthouse Square, 1803 3rd Ave. - Sponsor: Honda of Jasper - Artists: Deb Warnat and Rotary Club of Jasper members
"Maggie" - 215 19th Street West - Sponsors: Larry & Margaret Lee - Artist: Deb Warnat
"Sappy" - 1923 3rd Ave. - Sponsor: The Sapp Law Firm - Artist: Laura Walker
"Hattie" - 1800 Birmingham Ave. - Sponsor: Jasper After Hours Clinic - Artist: Tracy Waid